This is Changing Florida, a Tributary newsletter keeping you up to date on redistricting, demographics and the fight for political power in the Sunshine State.
To make sure you don't miss out on an issue, click here to subscribe now and play a part in ensuring fair districts for all of Florida. Click here to read our archives.

We can't do this work without support from readers like you. Click here to donate to The Tributary.
If you have questions about redistricting or the Census, you can send them to us by clicking here.
---
The Florida Legislature launched a dedicated redistricting website with the ability to accept public proposals
---
---
By Andrew Pantazi
The Tributary
---
The Florida Legislature's dedicated redistricting website launched this week, which kicks off the ability for the public — and paid consultants — to submit their own map proposals.
The U.S. Census results were much delayed this year, which means the Florida House and Senate redistricting committees will need to speed up their work compared to past decades. One potential casualty of that sped-up process: less public outreach.
Sen. Ray Rodrigues and Rep. Tom Leek, the respective chairmen of the redistricting committees, both said they are still deciding whether their committees will travel the state to solicit public comments, as the Legislature has in the past.
On Wednesday, Leek said he was hoping the launch of the dedicated redistricting website, with its map-drawing app, will ensure the committee still considers public input.
House staff director Leda Kelly said it will be up to individual representatives to monitor and take note of public-submitted maps.
Allowing public input into map proposals doesn't guarantee integrity in the process. Last decade's failed redistricting also included an online app for public-submitted proposals.
This time, both the House and the Senate have said they will require disclosure from anyone compensated for their public input, an effort to limit the astroturfing that was rampant last time where political consultants used scripted comments to give false impressions.
Leek told representatives that they cannot submit maps until after they've been trained on case law and the legal requirements of Florida's Constitution, which includes the fair-districts amendments passed a decade ago, which led to the reversal of last decade's congressional and senate maps.
House redistricting committee members must attend a "Legislator University" course next month, Leek said.
The redistricting website also includes copies of historical congressional, house and senate maps going back to 1982.
Both Leek and Rodrigues , the two Republican chairmen leading redistricting efforts in the Legislature, also pushed back against proposals to use any criteria outside of the Florida Constitution's explicit language.
The Florida Constitution requires fair districts according to certain standards: compact shapes, no favoring incumbents or political parties and no denying equal opportunities racial or language minorities.
The Florida Supreme Court has divided the criteria into two tiers.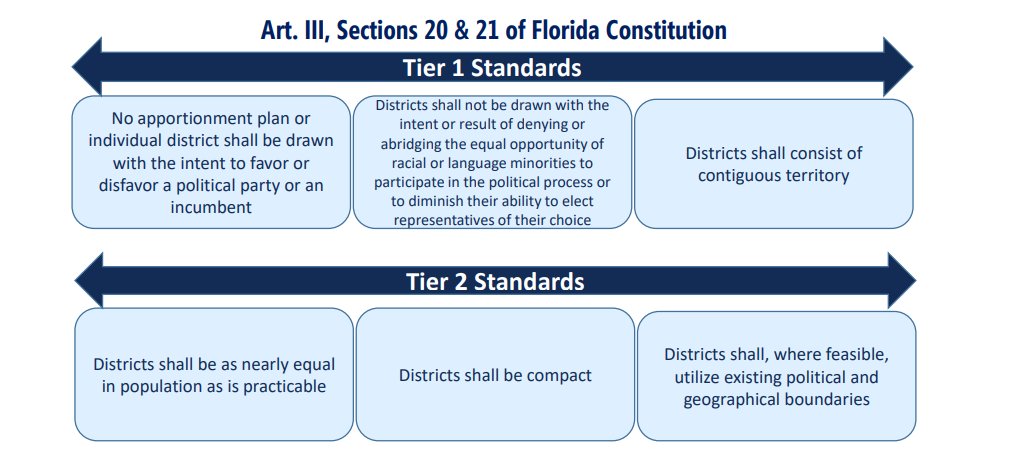 Rep. Joe Geller, the Democratic ranking member on the committee, said he wanted the committee to consider a tertiary tier of standards to get at the heart of fair districts.
He pointed to the fact that even though Republicans have won statewide general elections by slim margins, they've won far more districts than Democrats
In 2020, Donald Trump won Florida by three percentage points, yet he won more votes than Joe Biden in 63 percent of Florida House districts, according to Dave's Redistricting App's estimates.
In 2018, Ron DeSantis won Florida by less than half a percentage point, yet he won more votes than Andrew Gillum in 56 percent of Florida House districts.
In 2016, Trump won Florida by one percentage point, yet he won more votes than Hillary Clinton in 56 percent of Florida House districts.
The Florida Constitution does not require that an election result in proportional outcomes at the district level, but Geller indicated it was a measurement of fairness he wanted the committee to consider.
---
On The Calendar
Jacksonville City Council members from the Northside and Westside (Districts 7, 8, 9, 10, 12, 14) will meet today from 1 p.m. to 2:30 p.m. City Hall's Lynwood Roberts Room.
The Florida House State Legislative Redistricting Subcommittee meets today from 9 a.m. to 11 a.m.
The Florida House Congressional Redistricting Subcommittee will meet separately at the same time.
You can find past meetings on The Florida Channel, which will also live-stream each of the Florida House meetings this week.
---
We want to see what you think Florida's Congressional, Senate and House districts should look like.
We've already gotten two submitted City Council maps that we are going to feature next week with descriptions from the people who drew them.

Here's how you can get started drawing your own maps.
Go to DavesRedistricting.org.
Create an account.
Go to DavesRedistricting.org/maps.
Select New Map.
Choose Florida as your state.
Select your plan type ("Congress", "State Senate", "State House" or "other" for local districts).
Click apply and it will take you to a new screen where you can begin drawing districts.
When you're done, send a link to your map to info@jaxtrib.org, so we can feature it in a future newsletter.
Support our newsroom
If you want to keep reading Changing Florida, remember to click here to subscribe.
We couldn't do this work without support from readers like you. Click here to invest in the journalism our community needs.

Don't miss our redistricting updates